So my brother sent me a surprise birthday present: the seventh Harry Potter book! I hadn't even asked for it, but I read it in a day, neglecting my writing and daily exercise. (Then again, I'm neglecting them anyway with the journalism course.)
I can't believe that J.K. Rowling did such a cop-out at the end. It makes sense, and the book is the best out of the seven, but-
WE INTERRUPT THIS BLOG TO TELL YOU THAT FROM HERE ON THERE WILL BE SPOILERS ABOUT THE SEVENTH BOOK. READERS BEWARE.
What J.K. Rowling did is what Neil Gaiman did in
Neverwhere
and
American Gods
. Why Neil Gaiman is better is that when he revived Shadow and the Marquis, it was not as simple as getting up. The Marquis has his throat cut (he has to bind it) and was coughing up seawater. It was painful for Shadow to come back, and he wanted to stay dead.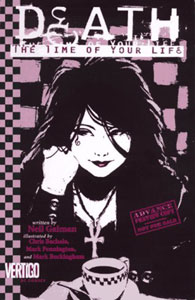 Neil Gaiman is the best author on reviving the dead. I mean, he did create Death, or at least Death from the Sandman comics.
No offense to Ms. Rowling, but when I read the scene in the Harry Potter books, I felt like it was a rendition of the scene in
Happy Feet
when Mumble finds himself in the aquarium. In fact, there was only one death in the book that touched me. But I'm not saying who it is.
A rule for writers: if you are going to revive the dead, it has to come with a price. The revived has to pay a price, not someone else.